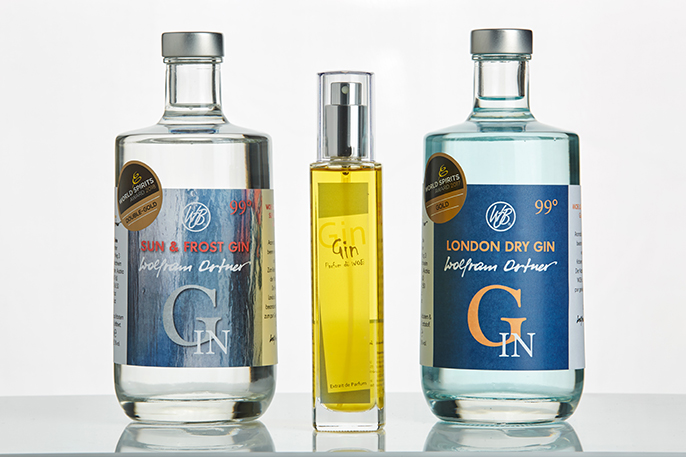 Wolfram Ortner's gin family has developed magnificently over the past seven years and currently presents itself in the form of three noble creations.
It all started in 2011 with a purebred London Dry Gin, which also won gold at the World Spirits Award in 2012 - some time before the gin hype that has become a "perennial favourite". The WOB G:in is a classic, rather light dry gin - perfect enjoyment pure or with tonic.
In 2018, Ortner has now implemented a new gin concept, the result of which can be called Riserva Dry Gin. A particularly strong, aromatic London Dry Gin that retains the aromatic upper hand even when mixed with tonic. The name WOB Sun & Frost already describes the special features of the production. The gin from the year of its birth, 2015, was exposed to the elements - sun and cold - for six months to round off the aroma. The result: in 2018, it was awarded double gold at the World Spirits Award as one of the best gins.
For true gin lovers who also want to smell typical gin aromas, Ortner has now designed the high-quality perfume GinGin. In keeping with the gin sensory tradition, it is a classic New Western style type in which juniper does not dominate, but flows together with the ingredients of the perfume. The degree of dilution of the perfume oils is only 10% (in terms of alcohol content).
WOB Gin3 is a gift set consisting of G:in, Sun & Frost as well as GinGin and is available now in the WOB shop in Bad Kleinkirchheim or in the web shop www.wob.at at a price of 174,90. The gins are bottled in 0.5-litre bottles with 49.5 % alcohol, the perfume is offered with 100 ml content. Of course, the products are also available individually in the web shop.