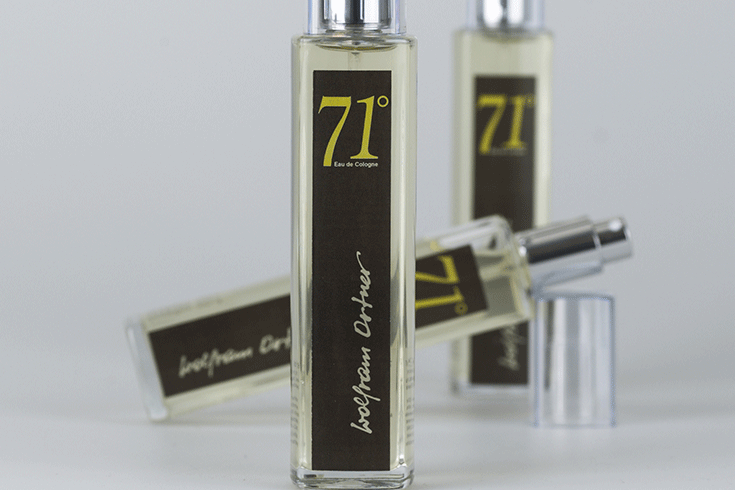 Wolfram Ortner has made a name for himself as a perfumer over the last 20 years, manufacturing refined distillates and whiskies. His long-standing experience and intensive work with aromas, scents, herbs and spices led this Carinthia-based visionary to the idea of creating his own perfume – the result is called 'Wolfram Ortner 71°'. The perfume is a unisex eau de cologne with a unique scent explosion created using only natural perfumes and essences. The name represents the authenticity of the creator while the number '71' refers to the strength of the alcohol in which the aromas are released. The scent is a reflection of experiences in a past which the perfume incorporates. The freshness of the distillates is reflected in the citrus tones and the stimulating aromas of patchouli, incense and myrrh. All in all, '71 °' pays homage to the senses and to all things beautiful in life.
WOLFRAM ORTNER 71° - Unisex-Eau de Cologne
Natural essences and perfumes
Manufacturer/brand: WOLFRAM ORTNER 71°
Dilution category: Eau de Cologne
Target group: Unisex
Concept/idea: Simply different – and a reminiscent of years gone by with that special something
Top notes: Citrus, grapefruit, pineapple, orange – lots of freshness with finesse
Middle notes: Patchouli, incense, myrrh, rose, lavender – lots of aromas with lively tones
Base notes: Patchouli, incense, myrrh, sandalwood, cinnamon, vanilla, balm oil – lots of warm spiced tones
Quantity: 100 ml
Alcohol level: 71 % vol.
Available: www.wob-shop.com