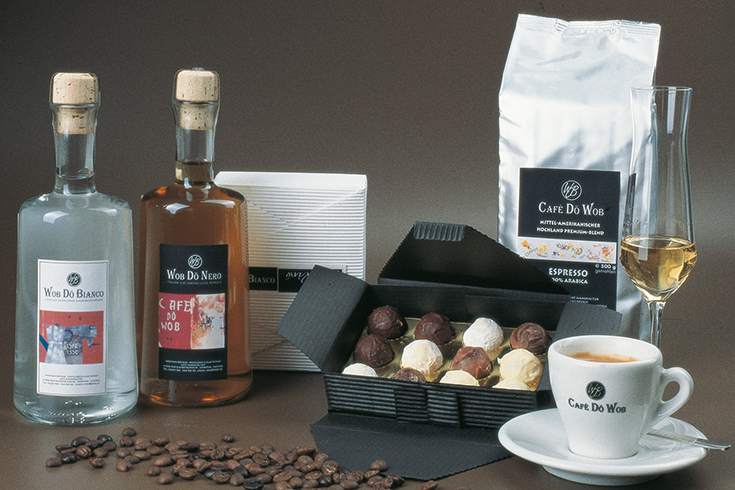 CAFÉ DÖ WOB Coffee The Café in the Carinthian Nockenberg Mountains
Wolfram Ortner's popular location for gourmets in Bad Kleinkirchheim - for years well-known as a distillery and design workshop for glass with stylish accessories for table culture, as well as the place for cigar aficionados to go - was recently outfitted with a new service - as a coffee producer, a completely new facet, with the goal of establishing an Italian espresso culture among coffee gourmets through the CAFÉ DÖ WOB brand of coffee – along with two companions, in "spiritual" and sweet forms – DÖ WOB BIANCO and DÖ WOB NERO, in the form of coffee brandies and chocolates. In addition, perfect Italian espresso machines are now offered for the household and the office.
Whoever knows Wolfram Ortner knows that his creativity and prowess in innovation hardly have any limits. Since he is a perfectionist, it is not at all astonishing that he acquired small, but very fine coffee roasting equipment which guarantees the best development in taste of the well-selected beans, through slow roasting at a constant temperature, sufficient cooling and immediate packing. And the elegant black-silver packaging itself indicates the highest of quality just by its appearance - like everything else coming from the house of WOB.
The CAFÉ DÖ WOB ESPRESSO coffee is a premium blend from the Central American highlands, which is characterized by its charming elements in taste and unique, especially low caffeine content of only 1.4%, the balanced acid without bitter tones, fine chocolate-cocoa touches, and harmonious mildness. A special blend of this modern espresso is the stronger roasted CAFÉ DÖ WOB PRIVÉE coffee.
The CAFÉ DÖ WOB ESPRESSO coffee is also available in cup portions (tabs) with a guaranteed freshness. Airtight single portions containing 7 grams of CAFÉ DÖ WOB ESPRESSO are pressed into filter-tabs and provide convenient preparation under the correct pressure of an espresso machine. One carton contains 150 portions.
However, the WOB coffee collection not only contains the basic products, but everything else that really completes the full pleasure of coffee - a selection of coffee machines and the appropriate cups. New at WOB are original Italian lever machines from the company of Ponte Vecchio. Connoisseurs know that good espresso can only be made with a lever machine. There are two models, for the household and the office - Lusso and Export differ in the volume of the water container and the equipment - these perfectly manufactured coffee machines can be delivered in the following colors - black, red, white and chrome.
The special series of cups is also a visual pleasure - the CAFÉ DÖ WOB-GALERIE. The classically shaped espresso cups, which are somewhat thicker on the sides (the true coffee connoisseur knows why - very simply, the cream doesn't melt so quickly) were designed by the well-known Carinthian artist - Thomas Mikel. The pictures, ideally adapted to the form of the cup, are painted with coffee beans and are presented to the public at tastings of coffee and brandies.
An attractive gift carton is available, containing 500 grams of ground CAFÉ DÖ WOB ESPRESSO coffee, packed together with two designer espresso cups of the Thomas Mikel Edition.
It takes 25 seconds to make a perfect espresso - a lever machine, the correct water temperature, grounding, dosage, and a little bit of feeling for an espresso are the basic requirements. You alone have to decide how you want to enjoy your CAFÉ DÖ WOB coffee - as an espresso (so to speak the "purist" variation), an extended one (diluted, as true experts serve an espresso - together with hot water in order to achieve the individual mix), or as a "hot and highly spirited " duet. With the fitting brandy, coffee can make the perfect duet of taste. Try a pomaceous fruit brandy, like plum or mirabelle, apple or marc brandy, which were matured in barriques. Right until the very last sip, you should allow yourself something special - dissolve the froth in your cup, take in the aroma, close your eyes and simply enjoy.
There are two new and special coffee brandies at WOB that are turning an espresso into a real treat, and as all our distillates, without aromatic additives, external alcohol or sugar added in order to complete the taste. The barrique-matured precious brandy of WOB DÖ NERO is a blend of apple and grape brandies, and the WOB DÖ BIANCO a blend of yellow plums and plum brandy.
Right down to the last detail for a complete taste experience are the pralinés NERO and BIANCO - tender truffle chocolates, filled with two coffee brandies, produced in the workshop of the world master Ernst Lienbacher in Spittal.
Sale and Information:
Wolfram Ortner Destillerie & Café-Manufactur, Untertscherer Weg 3,
A-9546 Bad Kleinkirchheim, Phone: 04240-760, Fax 04240-760-50,
E-Mail: This email address is being protected from spambots. You need JavaScript enabled to view it., Internet: www.wob.at