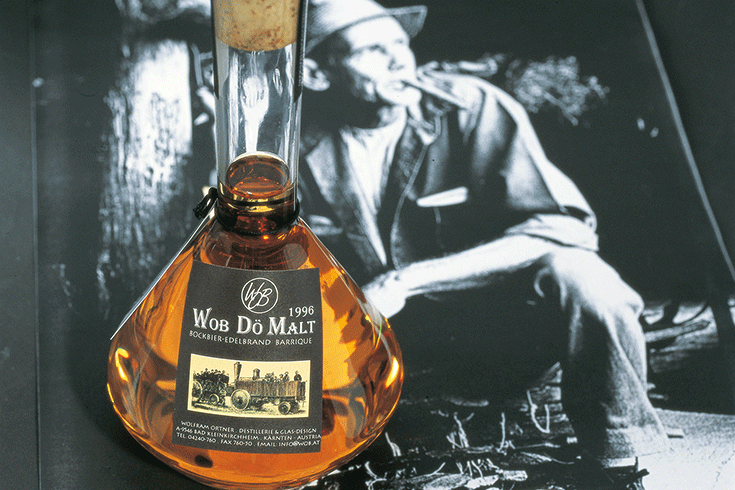 'NockLand Whisky' made by Wolfram Ortner
He has already done so many things, this Ortner. Fruit brandies, cigar and coffee distillates, a fascinating glass design, the cigar cutter WOB-Varios and many other design pieces. But what makes the "Man from the Nock-Land" emulate the Scottish and Irish national drink now? Isn't the world already in danger of drowning in better or worse whisk(e)ys from Japan to America? As all distillates from the Bad Kleinkirchheim-based distillery, this Single Malt also bears the unmistakable hallmark of the master distiller. With the "WOB DÖ MALT" Wolfram Ortner has opened up a completely independent path. That is why this product will certainly find its enthusiasts among whisky friends who are looking for something out of the ordinary.
In order to distill grain some technical alterations had to be carried out at the "Chateau de Brandy". The fermenting tanks had to be adapted for thermal hydrolyzation to achieve constant mash temperatures of more than 60° Celsius and allow to cool down the tanks as fast as possible to a fermentation temperature of 25° Celsius afterwards. While hydrolyzing the kiln-dried barley malt is finely ground and mixed with clear water. In the fermenting tank grain starch is converted into sugar and then fermented and distilled off after maximum three days in electronically controlled stainless steel tanks since grain is very susceptible to infections. Compared with the "normal" whisky production, where the grain is leached severals times with hot water, the entire grain including the draff is fermented at WOB's in order to capture the full character of the malt in the distillate.
We distill in an electronically controlled high-tech distillery with water bath; between the copper still and the fireplace there is a water jacket which allows a particularly careful distillation. Grappa and whisky are produced in stills with direct heating. As with any fine fruit brandy, Mr. Ortner observes the strictest principles and exact separation between the light and heavy ends with grain too. Traditional whisky, for example, has an alcohol yield of 30% - Ortner gains only 20% alcohol with the same quantity. The quality simply benefits from the experience in distilling such delicate fruits as raspberries etc. – and from the necessary understanding for perfection.
Whisky is allowed to be sold only if it has been aged for three years in oak barrels, traditionally in second-hand Sherry or Bourbon barrels. In order to produce vintage whiskys, Mr. Ortner has produced a fantastic barrel stand "out of thin air". With the division into a dry reduction area and a moist ageing cellar whose "soul" is a sprinkled monolith in a water basin, he has opened up an entirely new path. The range of woods comprises Limousin, Allier, Nevers, Vosges and American oak. Second-hand barrels are not used, certainly not Sherry barrels since sugar would otherwise indirectly permeate the distillate. The inventive distiller uses nothing but new oak barrels which are produced according to his ideas to let several thousand litres of "Nock-Land Whisky" age. Following the WOB philosophy this Single Malt is produced without adding sugar or flavourings. Some barrel samples already give you an idea of a completely new and genuine whisky experience.
Since water plays an important part in producing whisky and Mr. Ortner is fortunate to live in the heart of the national park region 'Nockberge' – hence the name "Nock-Land Whisky" – and due to the fact that the curative effect of Bad Kleinkirchheim's thermal water is well known, the WOB DÖ MALT can certainly be considered an especially aromatic and delectable "medicine" or "eau de vie".
During the ageing in a perfect environment the distillate is reduced to a drinking strength of approx. 48% before it is bottled and sold. The long and careful process of watering down the distillate guarantees an optimum blend of alcohol, aroma and extract. Whisky friends, coffee lovers, aficionados and "snifflers" will probably regard the WOB DÖ MALT as a new whisky for special days and occasions. Whoever is interested may already "take a sniff" in Ortner's World of Aromas and taste the barrel samples in the barrel stand, naturally after booking. The WOB DÖ MALT "Giuseppe" is on the market in for 50 Euro.
WOB will always stand for quality and craftsmanship. The slogan "Handmade Goods for finer Living" is therefore also more than valid for Mr. Ortner's latest "playground". Therefore the entire manufacturing process revolves around man on its long way to the final product whisky.