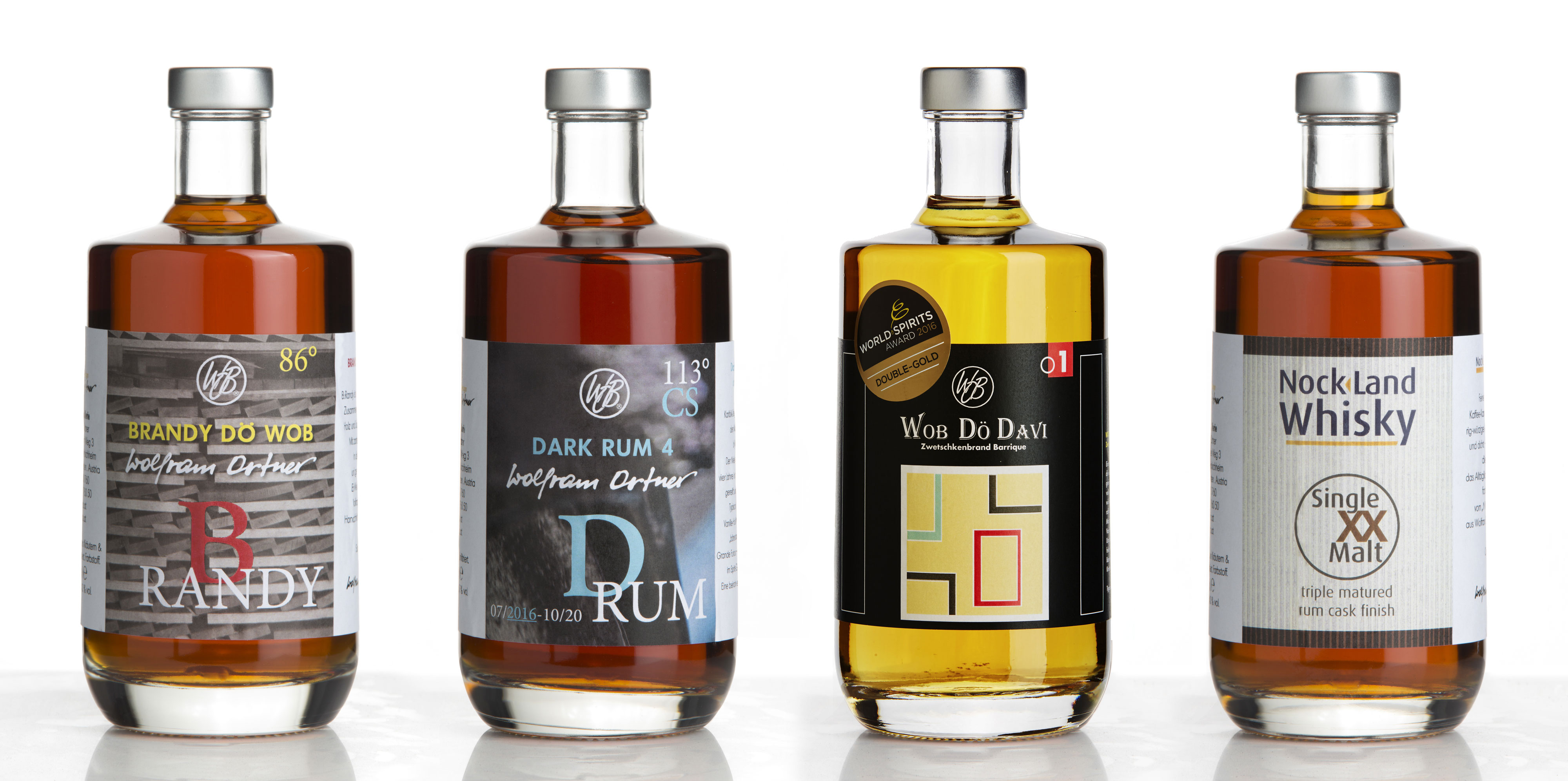 The winning formula of Wolfram Ortner's 4 WOB musketeers: stylish, elegant and powerful in taste.
When it comes to the quality of the spirits bottled by WOB Distillerie Wolfram Ortner in the "crisis year" of 2021, they are products across the board that truly deserve to be called "valuable."
Ortner started the distillery and barrique aging in 1989 and has perfected the skills over the past 31 years. The result is products of various categories - from rum to brandy to the classic plum distillate. And each reflects the signature and decades of experience of the master distiller.
Of the five rum batches produced in 2016, the Dark Rum Batch 4 has now been bottled, which displays and inspires an almost unbelievable aromaticity - without added sugar, of course.
WOB DÖ DAVI has also been relaunched and goes on sale as the popular Zwetschke Holz of the 2018 vintage.
Ortner's Sauvignon Blanc-based brandy from 2017 can certainly compete with the very big products in the brandy world. B:RANDY is a multi-faceted brandy with the typical nose of the Sauvignon grape and the strong base of the wine yeast combined with the sweet flavors of the Limousin barrel.
Ortner began producing whiskey in 1996. Now Nock-Land Whisky XX goes on sale, a triple-matured single malt with a rum cask finish from their own barrique cellar. It is the last whisky cask of his creation after the distillery was not rebuilt in 2019 after an explosion.
Dark Rum Batch 4 Cask Strength 2016
Caribbean lifestyle meets fire of ideas from Nock country - conducted by Wolfram Ortner. The molasses rum was aged for more than 5 years in heavily charred Limousin oak and bottled at cask strength. Typical, sweet rum esters and vanilla wood notes present themselves "strong as a bear & rich in barrels". Grande Furioso - with extreme reverberation - in the Spirits glass and on the palate. An almost endless rum story! Cheers. Content 500 ml, 47,5 % alcohol, Euro 150,-.
PLUM BRANDY BARRIQUE 2018
Ripe, spicy plum fruit with refined "candy" marzipan tones, caramel, vanilla and delicate sweetness. Incredible density and perfect harmony of fruit and barrel. A distillate where power is wrapped in elegance. Volume 500 ml, 47,5 % alcohol, Euro 113,50
BRANDY DÖ WOB 2017
B:Randy is the aromatic interplay of fire, wood and Sauvignon Blanc. With delicate wine yeast in distilled and aged form. A brandy superiore with Wolfram Ortner's signature and heart and soul. Saludos! Content 500 ml, 47,5 % alcohol, Euro 110,-.
Nock-Land Whisky Triple Matured 2000
When barley malt goes on a 20-year journey - in barrels of French and American white oak, to finally pass the maturity test by a rum finish, the result can only be a unique taste experience. A single malt with maturity, sophistication on the nose and long-lasting fire on the palate.
Fine honey scent with rum notes, coffee-caramel notes, leathery-spicy accents, extract-sweet and dense - whisky lovers looking for more than the ordinary will be fascinated by the "NLW Single Malt" from Wolfram Ortner's distillery. Cheers! Content 500 ml, 47,5 % alcohol, Euro 120,-.
Since Ortner has no professional successor, products will continue to be matured over the next ten years, but will be sold off continuously until the storehouse of noble spirits is empty. Apropos empty: Also with the glasses individual creations are no longer produced. So make sure you secure spirits and glasses from the "Father of edgy glass design," which Ortner invented and trademarked in 1991, in good time.
All products can be found on the website www.wob.at or in the store in the distillery in Bad Kleinkirchheim in Carinthia's Nock Land.
PS: Due to the general price increases, WOB must also adjust the assortment prices with October 1 of this year or increase "customer-friendly".