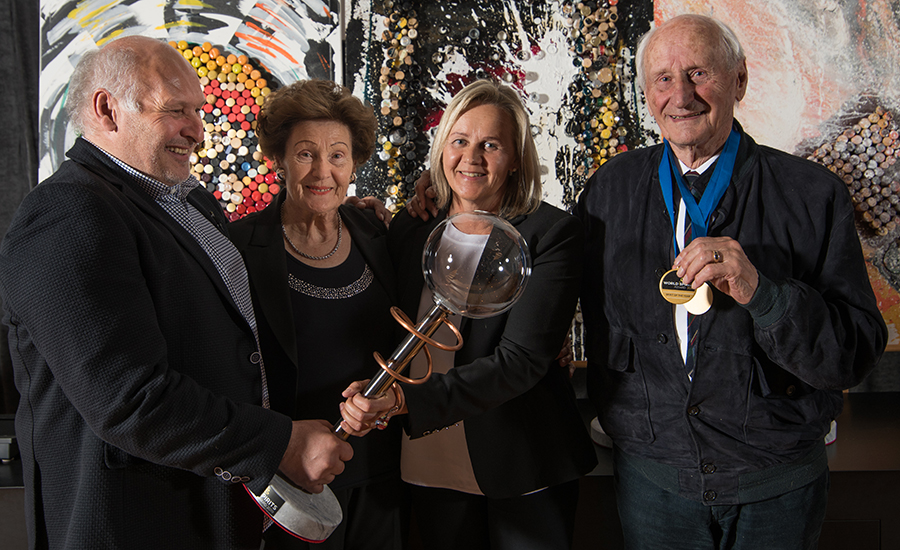 WOB Destillerie Wolfram Ortner: 30 years of evergreen distillates
'Handmade goods for finer living' is a widely recognised slogan amongst those who enjoy the finer things in life: high-quality, handcrafted products are made at Wolfram Ortner's distillery and coffee company in the Carinthian Nock-Land region. The 'World Spirits' brand has also been making waves, and its inclusive concept has certainly contributed to the improvement of international spirit culture. The latest additions are 'World Spirits Tasting Videos' for TV stations and YouTube.
Over the decades, the pursuit of perfection led to an exceptional product portfolio: coffee and cigar distillates, essences, Parfum de Vie, Mariage (a blend of Nock-Land whisky and fruit distillates), WOB shots such as Sin:it or Lav:it (concentrated, alcohol-based aromas, for long drinks or to enjoy neat – only a few drops are enough for a taste sensation), WOB 24 Karat (a powerful fruity and woody composition), WOBka (a vodka with a distinctive Nock-Land profile), and aquavit from the range of WOB medicinals as an homage to Nordic lifestyle.
An outstanding product is the 'Fire & Ice' London Dry Gin, which was exposed to the natural elements in a tank to specially mature for three years. And because gin has been so trendy in recent years, in Ortner's fragrance and taste forge, a fascinating, fresh perfume has been created which reflects all the aromatic nuances of its drinkable relatives in a New Western Style.
At the World Spirits Award, there was double gold for Venti Anni 1997 (Spirit of the Year & World Spirits Award 2019), and gold for KGB Kräuter-Gewürz Bitter and WOB Absinthe – Abs.in.
95,7 WOB-Punkte – Venti Anni 1997 1997 - Double-Gold
WOB Destillerie Wolfram Ortner, Österreich-9546 Bad Kleinkirchheim, www.wob.at
Fragrance: Great apple and wood aroma concept, powerful and ripe fruit ester as basic notes, citrus and orange accents, typical fresh and cider-like apple notes, intense roasty notes, a lot of vanilla, honey, leather, cold coffee, raisins, sweet and quince-like background. Taste: A masterpiece of apples and barrique barrel, fresh interplay of fruit, ester and wood, almost candy drop- and strawberry-like, reminiscent of rum ester, roasty and fruity balance, bittersweet, slightly pip-like apple notes, honey, caramel, a lot of apple and wood sweetness, chocolate, very harmonious, full-bodied and long. (Spirit of the Year & World-Spirits Award 2019): . Volume: 500 ml, Price: 110 EUR
93,3 WOB-Punkte – WOB Absinthe - Abs.in 2018 - Gold
WOB Destillerie Wolfram Ortner, Österreich-9546 Bad Kleinkirchheim, www.wob.at
Fragrance: Classic, inciting absinthe composition, vermouth, anise, star anise, fennel, fresh and minty, cool and menthol, hay-like and herbal basis, camomile, orange, nutty touch. Taste: Dominant bitter notes, almost ethereal texture, dried herbs bouquet, vermouth, liquorice, hyssop, aniseed-fennel base notes, delicate citrus-peppermint addition, delicate anethole sweetness, dense and balanced, powerful finish. Volume: 500 ml, Price: 40,5 EUR
90 WOB-Punkte – KGB Kräuter-Gewürz Bitter 2018 - Gold
WOB Destillerie Wolfram Ortner, Österreich-9546 Bad Kleinkirchheim, www.wob.at
Fragrance: Elegant spice and herb portfolio, fresh and fruity, fruit aromas in the background, coffee, Tonka bean, citrus, bitter orange, black tea, vermouth, peppermint, lemon balm, gingerbread spices. Taste: Very typical herb and spice concept, balanced, stimulating bitter and sweet interplay, citrus, yarrow, hyssop, Tonka bean, a lot of roots in the basis, gentian, thyme, cloves, cinnamon, anise, nutmeg, orange peel, somewhat rum-like, discreet sugar sweetness, subtly warming ginger pungency, full-bodied, long-lasting finish. Volume: 500 ml, Price: 26,5 EUR