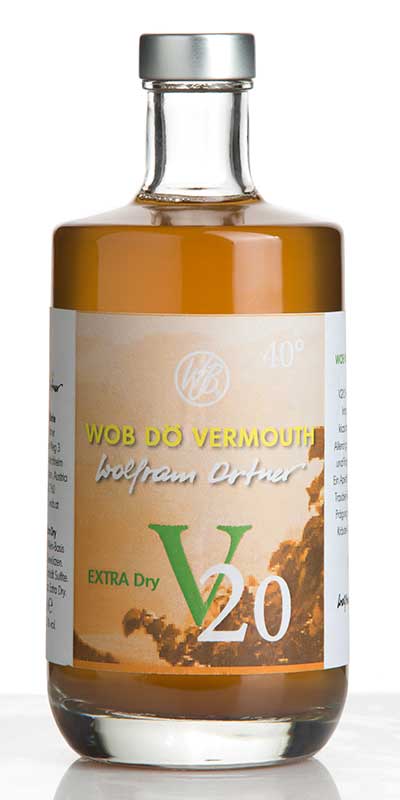 VERMOUTH DÖ WOB – V20 is the Spell
"You can't buy courage" – but the brand new WOB Vermouth by Wolfram Ortner, however, as of now. But what is behind V20?

You do need a little courage: the colour of the unfiltered Muscat Blanc à Petits Grains is rather unusual ... but after the first swallow the impression will certainly change into fascination!
But one thing after the other:the letter "V" stands for vermouth – the international designation for vermouth - and the figure 20 for the alcohol content as well as the used botanicals. The basic wine is a Muscat Blanc à Petits Grains with a slight yeast note - also known as "Sur Lie".
Although the VERMOUTH DÖ WOB has only got 20 percent by volume, no sugar was added. And the basic wine was also aged bone-dry.
Sensory profile: daring interpretation of a classic vermouth. However with a lot of imagination and sure instinct. An exceptional aperitif on a Muscat Blanc à Petits Grains basis with a floral character and subtle herb and spice bouquet.
Are you brave enough to get addicted? Then you can purchase the V20 at www.wob.at or at our shop in Nock-Land!