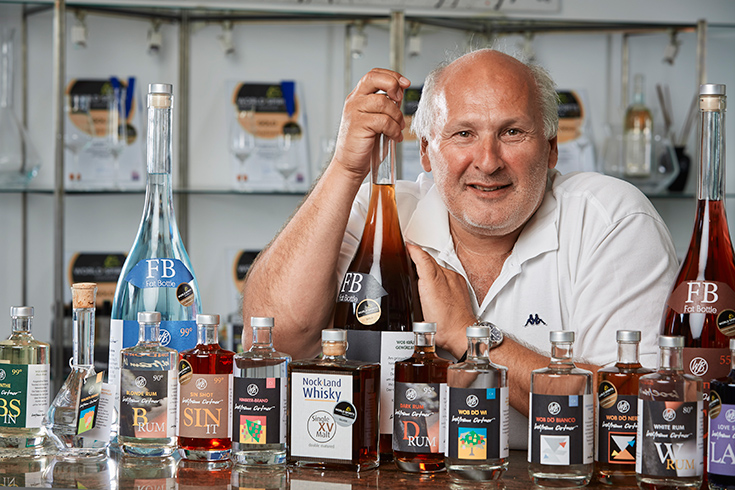 WOB Destillerie Wolfram Ortner: Transition to new times
'Handmade goods for finer living' is a widely recognised slogan amongst those who enjoy the finer things in life: high-quality, handcrafted products are made at Wolfram Ortner's distillery and coffee company in the Carinthian Nock-Land region. The products are available in the WOB shop there or online (www.wob.at). The 'World Spirits' brand has also been making waves, and its inclusive concept has certainly contributed to the improvement of international spirit culture. The latest additions are 'World Spirits Tasting Videos' for TV stations and YouTube.
It all started in 1989 with the aim of producing perfect distillates, setting trends and leaving a recognisable WOB mark through innovation. Distillates, drugs, coffee and cigar distillates, essences, 'parfum de vie' and more on the one side – a creative span from glass design to the perfect Café dö WOB on the other. Ortner's mark is evident in every product. The rum boom started in 2016 with a white and a blond light rum; in the first year, six different barrels were produced and primarily stored in barrique made of Limousin oak.

On 25 November 2019 there was an explosion at the distillery. The large site with the fermentation tanks suffered total destruction. The 'exit scenario' of the master distiller is defined: Existing products shall be stored, bottled and sold until 2028. Then, sadly, WOB will be over. At the beginning of 2000 there was a switch to smoked and not toasted Limousin oak barrels, following the bourbon model. The result of the longer storage are special creations.

At the World Spirits Award, there was gold for KGB, BRANDY, Nock-Land Whisky Triple Matured, London Dry Gin and Gin – Sun & Frost. Silver was awarded to Dark Rum Batch 4 CS, WOB DÖ DAVI and Nock-Land Whisky Virgin.